Yummy Healthy Baby Food for a Future Foodie
Lucia's experience becoming a good, old-fashioned Italian mom who feeds her baby pure deliciousness!
James is now 9 months old and he has tried almost every food following the 3" day rule". This means that I can start to teach him to eat everything, and teach him about good food at the same time.
I am one of those lucky mums who can afford to spend a lot of time with her baby so I can easily try and experiment new recipes to stimulate his taste buds.
At James' age, milk is still the main source of nutrition but when considering solid food the keys are fresh and homemade. Don't get me wrong; in the case of emergency James has eaten supermarket organic baby food. There are plenty of different brands and food combinations out there. Have you ever tasted these? It could be that I am spoiled or maybe simply just Italian but commercialized baby food tastes pretty much all the same to me! No matter what flavor I pick, I always think something (be it olive oil, Parmesan, or a pinch of salt) is missing.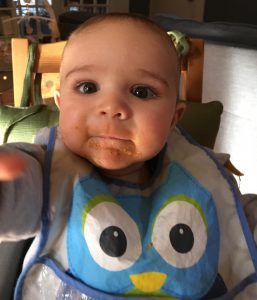 All these considerations brought me to the conclusion that my baby deserves to eat well and just good as an adult. So here I am, buying fresh veggies and fruits for James. I also am rotating meat, poultry and fish, combining these with different vegetables like: carrots, potatoes, cauliflower, broccoli, peas, beets and whatever else I can get my hands on at my local supermarket.
Mornings, he has his oatmeal for breakfast. I usually add some fruit too. A sprinkle of cinnamon makes it just perfect for him. In the late afternoon, we have our date with fruits. James can eat an entire (sliced) banana (which to me seemed too much but apparently he is totally fine with it). He also has a liking for mum's homemade applesauce, pears, peaches, avocados and mangos. I know what you are thinking… you can't spend all your day in the kitchen! Well, actually no. As a matter of fact, I believe that a yummy meal doesn't have to be extremely complicated to taste good. In order to help out, I've picked up these portioned freezer containers.
So the plan is to cook all the veggies once a week and freeze them in these. I then cook the pasta, rice, farro or quinoa daily and mix them with the veggies and/or chicken, meat or fish. To quickly defrost the veggies I boil some water and put the frozen portion in a ziplock bag. I leave this in the hot water for few minutes and voilà… defrosted perfection!
If variety is the spice of life I hope James will be always happy to try new foods and he will join mum and dad someday soon for sushi night.
I leave you with this super simple recipe shared with me by my own Sicilian mother, Nonna Daniela:
Pane cotto (cooked bread)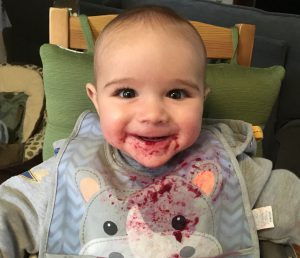 Take a little loaf of bread (If it's from the day before, that's even better)
Break it into small pieces; don't remove the crust, that's the best part!
Pour a little bit of water on the bread and leave it to soak for 10 minutes
Take a non-stick pot and place these wet pieces in it
Add a bay leaf
Cook for few minutes until you see the bread becoming dough-like
Remove the leaf of bay
Add a drop of olive oil and some Parmesan
Serve to your little one and enjoy! He will smack his lips!
Do you have your own original baby food recipe to share? Please let us know!