My Baby Turned One and he Transformed into an Italian Little Pizza Chef
How to throw an awesome birthday party, step by step, fun for children and adults.
We like to throw awesome birthday parties for our children. It is an opportunity to get the family and close friends together and celebrate the life of those we love the most. We also like doing it because both of our children's birthdays are right next to major holidays. Thanksgiving and Christmas. Yikes! We gotta lure our guests in with the promise of unforgettable events.
Both my husband and I have different qualities that luckily complement each other for planning and executing unique birthday parties: I am great searching for ideas online, creating the concept, finding the pieces and now, even planning the activities. He is a fantastic graphic designer, he cooks delicious, he is very handy, has every tool you could possibly think of (and knows how to use them) and he is the best host ever (nobody will go dry or hungry at his events).
Since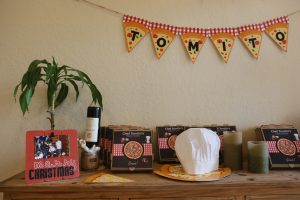 our youngest son was turning 1, we decided to create a party that wo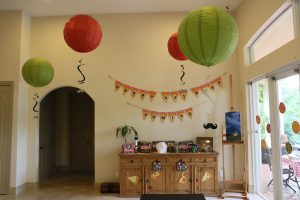 uld reflect his personality and what he likes. Granted, at 1 you might not see specific inclinations for cartoon characters or trucks or animals. But one thing is clear with Thomas: he loves to eat. ANYTHING. EVERYTHING. A good friend of ours (and the best party planner I know) suggested we combined his love of food with his Italian ancestry for an Italian Little Chef Pizza Party. And we loved the idea.
Like Tatiana my cousin and owner of Mi Tia Antonia Bakery said before, the cake is, without a doubt, the hallmark of a birthday party. It contains in its presentation and flavors, the elements that represent the personality and taste of the individual that is being celebrated. So, step one, was to contact the best Cake Master I know in this country: Pia Low.
That got the ball rolling. Then, I sat down with my smartphone and typed some key words on Pinterest to gather some ideas. And then I grabbed my notebook and a pen, and started creating a plan for our own party.
Party planning process
Pick a theme
Search on Pinterest
Take note of what you like
Search everywhere for bulk items and good deals
Write down your plan
I like to categorize when I plan a party to make sure I don't miss anything important. So, I created the following categories:
Guest list: it is key to get a head count of children and adults for ordering the right amount of stuff without exceeding in the amount of money spent.
Stationary: I include here the invitations, banner and some of the decorations such as the stickers for the pizza boxes and other cooking-related printouts.
Decorations: Things that needed to be bought such as hanging mustaches, paper lanterns, plants, planters and vegetable baskets for the centerpieces.
Food/snacks: We had chips and salsa, baked pasta, cold cuts and cheeses, grapes and self-made pizza, drinks, the cake (and the candle!).
Activities: decorate your chef attire, pizza making, pinning the mustache on the chef, pizza stickers (with a list of what I would need for each one).
Goodies: we wanted to give the kids a pizza box with all their pizza-making cooking supplies plus chef attire. We included a pizza cookie and a jar of candy as their goodie bag.
Disposables: tablecloths, cups, utensils, napkins, bowls for pizza ingredients, plates.
As making a pizza was the main activity, I will describe what the pizza kit included:
Pizza baking dish (Walmart)
Rolling pin (www.discountschoolsupply.com/)
Wooden spoon (Walmart)
Chef-themed towel (dollar tree)
Chef-themed pot holder (dollar tree)
Apron (oriental trading)
Chef hat (oriental trading)
Mustache (amazon)
Pizza box (amazon)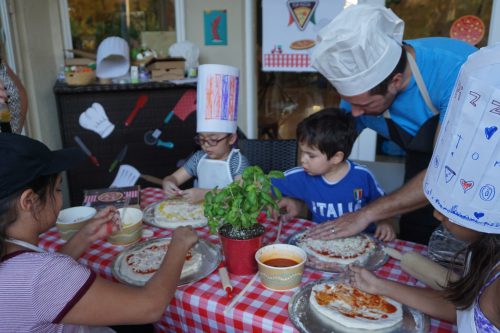 We chopped up ham, pineapple, salami, we served shredded mozzarella cheese, pizza sauce and we used the centerpieces (basil plants) as an ingredient too. We also got pizza dough and flour on the tables. This activity proved to be very entertaining for both children and adults who didn't hesitate to get their hands dirty and collaborate to make their very own pizza creations, very original both in shapes, thickness and flavors.
We probably baked about 18 pizzas which then were eaten by their creators.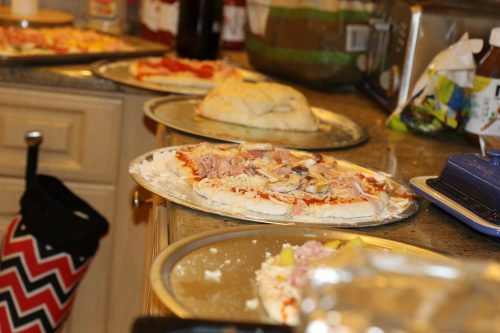 The bakery
We happened to have another birthday to celebrate on the same day. And since it is a very special person (our dear cousin and Thomas' godmother), we created a Corner Bakery for her, which not only matched the theme of the party, was also a variation that matched her taste.
The cake
An absolutely beautiful cake as only Pia could design and make, was the main act. Everybody gathered round the baby and the cake, to sing happy birthday in English, Spanish and Italian! The baby loved it, the guests did too and we proceeded to call it a night. An unforgettable event.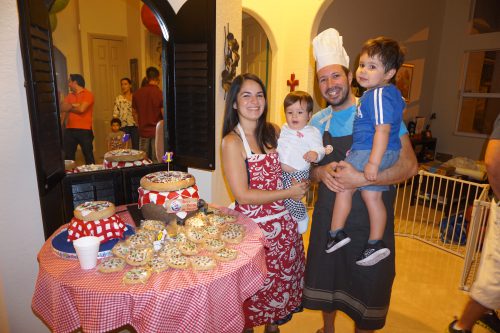 The conclusion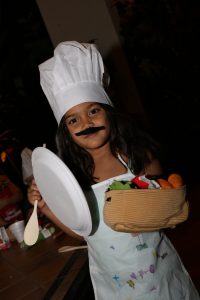 Creating a very elaborated party is without a doubt time consuming, and complex. It requires patience, attention to detail and talented people around you to help. And in order to not break the bank, a lot of searching and hands on work is a must. But we will continue to try to create memorable parties for our children and guests because it is truly a pleasure when you see the final product and the faces of your babies, enchanted with their own, special world for a day.